Community involvement is an important part of what we do. We take pride in being committed to help our communities thrive whether through the volunteer efforts of our employees or direct support of local events and schools. Check out photos of our employees donating their time and participating in community events.
Our Involvement
Lee County Bank Celebrating Community Bank Month
In 2013 and 2015, Lee County Bank was awarded the Best of the Best by Community Bankers of Iowa for their unique ways of participating within and giving back to our community. For 2017, we donated BINGO prizes for our local senior center and assisted living homes. We also handed out packets of microwave popcorn, candy bars, and gift cards to our local movie rental stores. Thank-You Thursday was celebrated by taking cookies to the over 400 employees at our local hospital.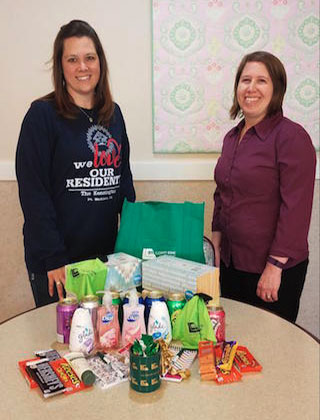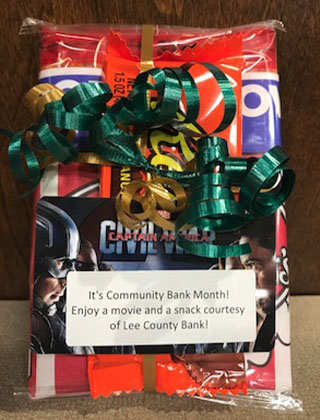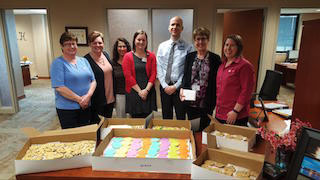 North Lee County Relay for Life
The North Lee County Relay for Life event is held on a Friday night each Fall. Lee County Bank is a corporate sponsor and our employees have a team to raise additional money for the American Cancer Society all year long. New for 2017 was our Relay Team T-Shirt sale. The shirt was designed by our employees and produced by a local vendor. Employees sold shirts to their friends and family members with all proceeds going to the LCB Relay Team. This fundraiser brought in over $200 for the team and gave us the chance to stand out at the Relay event. The theme for the 2017 Relay for Life was "We are Hope". The LCB team came up with a game of "Rope for Hope" involving roping a hay-bale steer. Miss Junior Rodeo Iowa, Kami Eaves-Fedler, was also on-hand to sign autographs and help kids with their roping skills.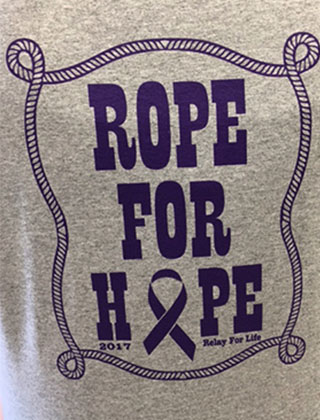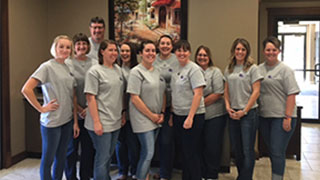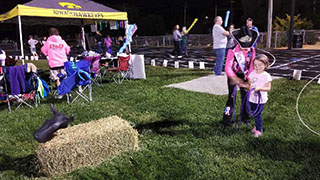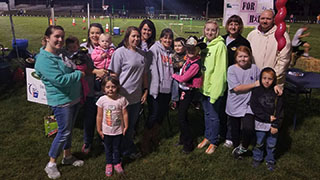 Lee County Bank is "Banking on Shoes"
An employee at Lee County Bank came up with an idea to provide shoes for students in need in the Fort Madison Community School district. They mentioned the idea to a few employees and these employees pooled their money together and purchased a few pairs of shoes that very day. As word spread around the bank, bank management decided to take the idea and expand on it and it became "Banking on Shoes". This became a special project for the bank, bank employees and the community.
During the month of August, over 100 pairs of shoes, dozens of pairs of socks and monetary donations were collected at all three bank locations. On top of that, the bank also made a monetary donation to use towards the purchase of additional shoes as the need arises.
The bank continues to have canisters available for donations to purchase additional shoes which are delivered to each school as needed. "Nothing you do for children is ever wasted." -Garrison Keillor
Fort Madison High School Bloodhound Boosters Annual Cake Auction
Lee County Bank employees served cake and homemade ice cream at the recent Bloodhound Boosters cake auction. The theme of the auction changes each year. We find a local baker each year to make the Lee County Bank cake for the auction and theme contest.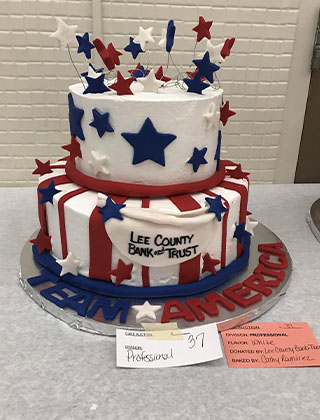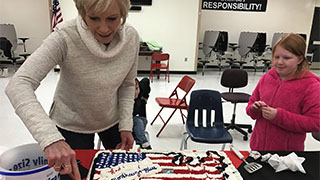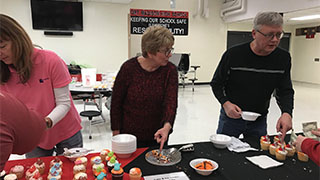 Shuckfest - West Point, Iowa
Volunteers gather in West Point each year to shuck all of the corn for the annual Sweet Corn Festival. Approximately 16 tons of corn is shucked and ready to be cooked in less than 2 hours. Lee County Bank provides dinner for all of the volunteers. Something that used to be a lot of work for a small group is now a lot of fun for a big group.