Free Debit Card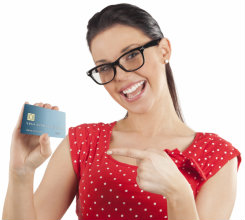 Fit your full account balance conveniently in your wallet or purse, without fumbling through bills and coins. Our debit cards are included free with any Lee County Bank checking account.
Simply swipe your way past checkout, order online, or withdraw cash at the ATM. Plus, debit cards linked to The Big Account, can qualify for ATM fee refunds each monthly cycle!
Summary

One FREE debit card with any new Lee County Bank checking account

Use at the ATM, register, or online; accepted worldwide

Up to $25 in ATM fee refunds with The Big Account

Linked directly to your checking account

Funds deducted automatically

No finance charges or late fees

Quicker than writing a check

More convenient than carrying cash

Plus, design your own customizable photo card for just $10!

Design Your Own

Share your story every flip of your wallet with an Lee County Bank photo card! Customize your card with pictures of children, your pet, your favorite vacation spot — whatever your heart desires. Upload one of your own photos, choose one from our image gallery, or create your own art work. It's easy!




Just follow these simple steps:




1. Choose your photo.

2. Upload photo.

3. Design your customized photo card.




Lee County Bank Photo Debit Card has a cost of only $10 per card (plus applicable sales tax), which will be deducted from your account.




Why wait? Create your card right now!

Guidelines

Images must be at least 2048 x 1536 pixels and no more than 10 MB.




Our current image upload guidelines restrict the use of certain types of images. The following guidelines have been put in place to help you with your selection; however, Lee County Bank, reserves the right to approve or deny any images at our sole discretion.




Please do not submit any images containing the following:




Copyrighted or trademarked material not owned by a Lee County Bank partner — if you didn't take the photo or own the image, we cannot accept it.
Branded products (except those associated with a Lee County Bank partner).
Provocative, lewd, or sexual content — including nude or semi-nude pictures of people of any age.
Celebrities/musicians/public figures/athletes/cartoons, etc. (except for those associated with approved Lee County Bank partner).
Violence, violent acts or any type of death imagery (e.g. images of skulls).
Socially unacceptable or discriminatory behavior or signs (e.g. gangs, hatred, drug/alcohol abuse, graffiti).
Profanity or other obscene behavior or gestures.
Images of money from any county (including the United States) where money is the central focus of the photo.
Images of flags (Our gallery contains flag related imagery — please review those images if you are interested in having a flag on your card).
Controversial subject matter such as political or religious statement and/or images.
Phone numbers (e.g. 800 or 900 #s) and URL addresses (e.g. www.xyz.com).
Competitive marks/names (e.g. Discover, American Express, etc).
Any image where the content is not clearly comprehensive or discernible. This includes non-English text, images, where the subject is unclear (i.e. blurry, distorted, etc) and may be interpreted as violating the guidelines. Any reference to the Olympic Games or events.
Any photo that might result in non-acceptance or other problems at point of sale.




See our full photo card terms and conditions.